Sci-Fi and Fantasy are two of my favorite genres to read, especially fantasy.  If it's not your thing, I get it, but I implore you to not overlook this post or this genre.  Remember, a reading list is about trying new things and you can find all sorts of comments on society in the pages of these books.  Moreover, there's often the classic hero's story a la Joseph Campbell; some read like historical fiction; some have Dynasty-level family drama (looking at you, Game of Thrones); some are dreamily romantic; some are downright funny.  Browse the book stores or look at Good Reads and give something in this genre a try.  I came across this great list on Book Riot of what the author of the article considers to be 100 of the "must-read" books in the genre…by women.
(Me getting on my soapbox)  I'll get my little gripe out of the way first.  I really have mixed feelings about the codicil "by women" or any other similar categorization.  I get that people want to emphasize diversity and make sure all groups are represented and I'm all for that!  Truly!  However, I can't help but feel that the tags also take away from the authors and their works by making them seem like they don't stand on the same ground as works by men (or whomever) and have to be judged separately. Can't we all just get along and say "must-read" without putting them into any other category than genre? (Me getting off my soapbox)
Anywho, it's a great list.  I think I've said that.  Most of them I've heard of, many of them are on a TBR list that never seems to end, and some I've had the great pleasure of reading and highly recommend.  Here's my favorites for the first half of the list…
Ancillary Justice by Ann Leckie – What a great book!  I had the pleasure of having a Skype visit with Ann Leckie for a book club where this was our selection.  She was wonderful!  To overly simplify a complicated plot, the story revolves around an android who is part of a space ship – these androids act as the eyes and ears of the space ship and keep the captain informed of what's happening in multiple places at once.  Boots on the ground, if you will.  Very Big Brother-ish or like the Borg in Star Trek: The Next Generation.  (Yes, I'm THAT kind of nerd!) Treachery happens, as it often does, with the main ship being destroyed and only one android, Breq, is left to figure out what happened to the ship and captain and seek revenge.  The truly remarkable part of this book is that Breq could be male or female – the story (and the author) don't confirm anything. It's not a sexual plot line, it's just that, to Breq, male and female have no relevance (just like me on my soapbox).  The Radsch empire (Breq's home) makes no distinction between male and female in their language, so you really never know if any given character is male of female.  It really makes no difference to the plot either, but it kind of blows your mind as you're reading it – just when you think you have it figured out, you don't!  I haven't read the sequels yet, but they're on my list, and I'm for sure going to read this one again.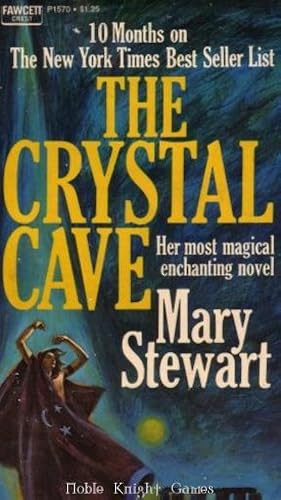 The Crystal Cave by Mary Stewart – I loved this series! An oldie, but goodie, Stewart takes on the King Arthur saga and brings a realness and depth to the characters that makes you believe they could have existed.  This first book focuses on Merlin and his early life, mixing in historical details of Britain in the fifth century – details that make the book seem like historical fiction.  Don't miss it or, if you've read it, read it again!
Dead Until Dark by Charlaine Harris – aka the television series True Blood, this book introduces us to Sookie Stackhouse and her quirky, deadly entourage.  I haven't read all of the books in the series, but I really did enjoy the early ones and mean to get back to them one day.  I did watch the television series through to the end and, from what I gather, the book series and the TV series diverge at some point, giving me a chance to see potentially different outcomes for favorite characters – kind of like a choose your own adventure!  This series has the swooning romance and the gruesome gore, so you definitely get bang for your buck. (Fang for your buck?)  Harris has another series I enjoyed even more about Harper Connelly, who can sense the final location of a dead person and see the last few seconds of their lives, and uses this knowledge to help bring closure to murders.  The first in that series is Grave Sight.
Harry Potter and the Sorcerer's Stone by J.K. Rowling – I mean, come on.  It's Harry Potter.  Get on the knight bus and read it, if you haven't already.  I'm still checking the mail everyday for my letter from Hogwarts.
The Hunger Games by Suzanne Collins – I fell in love with this series, right up to the very end.  It's dark and gritty and also full of humanity.  Collins has said that the fascination our culture has with reality shows like Survivor greatly influenced the formation of this story and it doesn't disappoint. Can we debate the ending, though?  You know what I'm talking about!  With social commentary hidden in a futuristic world, do not pass this one by and don't think you know the book just because you've seen the movies.
Post to be continued…